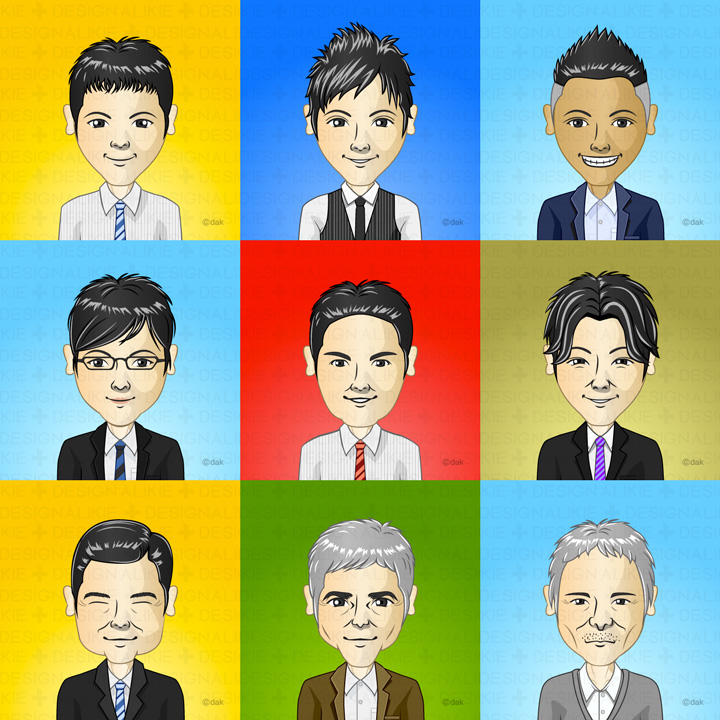 Businessman generation nine Person
It is a person illustration material of nine of generation of businessmen. As illustration image in the user's voice and the voice of the customer of flyers and Web site.

Image delivery in nine, image width for one person in the S size is 240px. (M size is 480px)

The person portrait of the original, you can create a Nigao pro version.
ID :

996

Category :

Price :

$17.5 / Size : XS
$35 / Size : S
$52.5 / Size : M


Size :

XS,S,M

License :

Royalty Free(RF)
Estimated image size
| Size | S | M | L | XL |
| --- | --- | --- | --- | --- |
| The maximum horizontal side | 〜480px | 〜960px | 〜1920px | 〜3200px |
| The maximum vertical side | 〜480px | 〜960px | 〜1920px | 〜3200px |
Similar types of illustration image
ID28

$15

ID95

$5

ID96

$5

ID97

$5

ID261

$5

ID982

$5

ID461

$5

ID462

$5

ID463

$5

ID995

$10
Other illustration image
ID996

$17.5

ID995

$10

ID994

$5

ID946

$3

ID945

$3

ID944

$3

ID716

$3

ID715

$4

ID687

$5

ID686

$5

ID472

$3

ID471

$5

ID463

$5

ID462

$5

ID461

$5

ID280

$10

ID279

$10

ID139

$5

ID138

$5

ID99

$5

ID97

$5

ID96

$5

ID95

$5

ID28

$15

ID27

$5